I am thrilled you've decided to join Paul and I for this landmark event on August 25th – The Super Bull Summit.
To explain why Paul has initiated this event, I want to draw your attention to a recent headline in the news:
"The S&P is having its best 50 day rally in history."
Now as incredible as that is, I want you to see another headline:
"I didn't know I'd lose money so fast."
Right now, this is the world we live in – the market delivering some of its greatest profit opportunities… ever… and yet investors without the proper guidance are still finding themselves at a loss.
This is why Paul and I have decided to team up for this event.
Because Paul believes this will not be a historic "50 day" or even 90-day rally…
He believes, beyond the shadow of a doubt, we are entering the most prolific era of wealth creation in market history.
In fact, he privately said to me: "I've never been more bullish in my life."
That's because as we enter Paul's "Super Bull" Market… we will see the growth of the most important, world-defining companies of the next decade.
Companies which will be as well established household names as Amazon, Netflix, Google, Facebook…
These are the firms transforming our daily lives from the ground up and forcing the market into unprecedented territories… they're the keystones of the America 2.0 Revolution that Paul has been writing about for over a year.
According to Paul, the only people who will not become wealthy during this watershed time are the people who stick with old companies… in the old world.
And considering Paul's background… I urge you to pay close attention when he makes a forecast like this- because Paul is easily…
The best investment expert I've ever known.
Now, before I go further, I want you to understand the gravity of saying that Paul is the "best investment expert I've ever known," because I don't write it lightly.
Fact is, I've spent my entire professional career working with some of the world's greatest investment and business minds.
So, when I say Paul Mampilly is the best investment expert I have ever known, I want to make it clear — he is one of the few investors who has actively profited through two of the most volatile decades in the history of the stock market.
Paul's more than 20-year career on Wall Street includes critical roles at Deutsche Bank, Bankers Trust and ING.
He went on to manage a hedge fund with $1 billion in assets. The performance of the fund during his tenure was so incredible, they received a "World's Best" rating by Barron's and top 1% scores from Kiplinger. The fund rose to $6 billion at its peak. And while some of that was from additional investors, there's no question he oversaw this tremendous growth.
In fact, Paul and his team were dubbed, "Low-profile iconoclasts" and told they had "some of the most original minds in the investment business today."
The Washington Post said: "Investors should hold this fund to a high standard" and justified the group's steep fees.
In 2008, Paul was invited to take part in a prestigious investment competition. They wanted to see what he could do with $50 million over the course of one year.
He was able to make a 76% return, raking in $38 million in pure, hard cash.
Not bad, especially considering the stock market tanked 58% during this time, and Paul made these gains without shorting stocks or taking on risky bets.
Word kept getting around, and Paul was thrown into the limelight.
And While the Gains Are Great,
It's Paul's Character That Makes Him Exceptional
After spending nearly 25 years making millions for millionaires, Paul grew tired of the Wall Street grind. So, he and his family moved to North Carolina with a new mission — to give Main Street folks access to the same wealth-growing tools of the world's elite.
All told, over the last three years, Paul has managed to generate more than 40 triple digit winners with an average hold time of less than a year across his entire catalog of research services.
On August 25th, during the Super Bull Summit, you'll hear about even more people who've profited big time following Paul.
Paul has been in the trenches, beating benchmarks for nearly three decades. It's a monumental achievement. Few others can make the same claim.
Even fewer are willing to share exactly how they did it.
However, during the Super Bull Summit…
Paul Will Be Sharing Full Details on This Super Bull Market… and the Perfect Strategy He Has Engineered to Profit During It
You see, Paul is the type of person that always strives for more.
And right now, as the Super Bull Market unfolds… Paul believes the chance to pursue legendary profits is greater than ever.
So while he has systematically delivered 40 triple digit gains with an average hold time of less than a year to his readers over the last 3 years… he believes his powerful signal strategy will blow everything out of the water in the months and years ahead…
A strategy specifically designed to target stocks destined to soar 1,000% or more in just a few short years.
Here is a snapshot of a few of the stocks you could have jumped on over the last few years…
One could have gotten into ZAGG for a 1,879% gain in three years.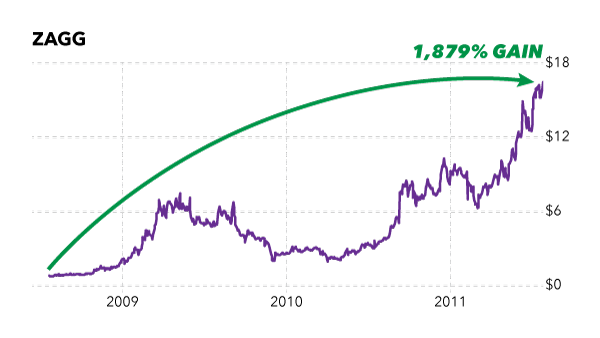 You could have scooped a 1,452% gain out of Booking Holdings in four years.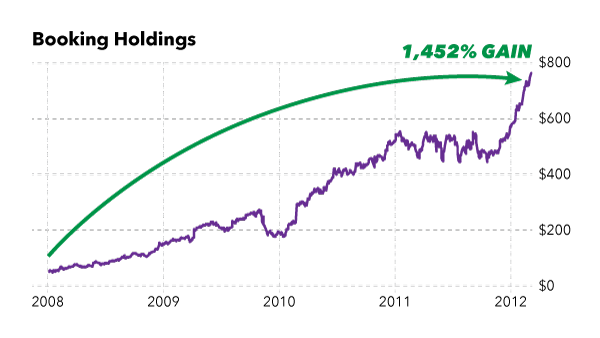 One last example. You could have jumped on Tucows and seen your stake soar 2,024% in less than six years.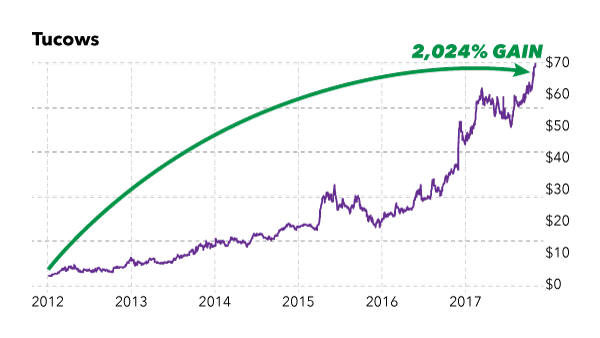 Each of these investments could have been foreseeable — the profits predictable, the gains incredible.
All you need is the right strategy.
Paul is going to show you how.
Tomorrow, he'll be giving you insight into why now is the ultimate time to profit… and witness an unprecedented surge of stocks rising 1,000% in the years ahead.
And on August 25th, we'll lay it out in complete detail.
— Corrina Sullivan